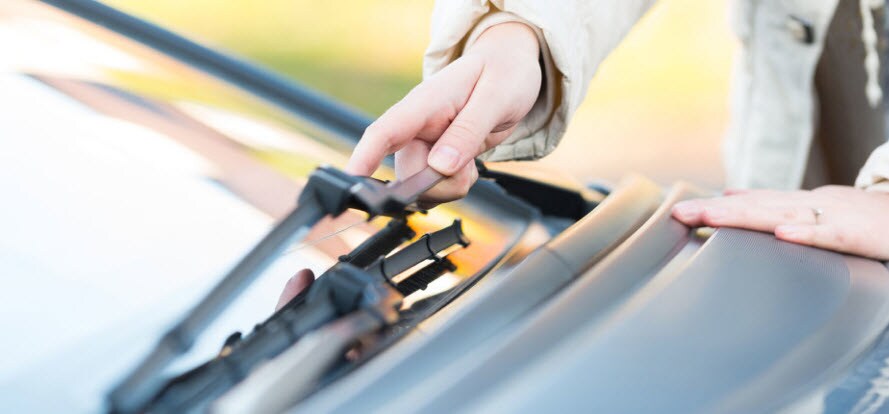 Is it time for a new set of wiper blades? If you drive a Toyota vehicle, it's important that you have the right wipers for your ride. At Butler Toyota, we have the genuine Toyota wiper blades you need.Serving Warner Robins, Macon and Milledgeville, our service and parts departments strive to provide you with the best parts and installations you need, so systems work optimally for a long time to come. Learn all there is to know about our Toyota wipers blades by reading below!
How to Change Wiper Blades
What You Get with Toyota Wiper Blades
Keeping a clear view of the road ahead is crucial for safe and responsive driving. With Toyota SightLine™ hybrid wiper blades, you're getting wipers designed with your Toyota vehicle in mind. They have the exact specifications to fit your ride, including proper size, windshield curvature and moisture removal.When you're driving on a rainy or stormy day, you'll appreciate these heavy-duty, long-lasting blades that rise to the challenge in all seasons. They're precision engineered to produce maximum flexibility, stability and wipe quality. They even include a fluoridated carbon coating over the rubber to reduce noise!
Signs You Need New Wipers
Like any other part of your car, windshield wiper blades are susceptible to wearing out over time. If you notice any of these signs, it may be time to replace yours:
Bent Frame or Blade. If the metal frames or rubber blades are noticeably bent out of shape, your wipers may not be making full contact with your windshield, leaving certain sections uncleaned.
Cracked, Split or Broken Rubber. The rubber that makes up your wiper blades should be smooth and continuous. If you notice breaks and imperfections, you're due for some replacement blades.
Windshield Film or Streaks. If you're in the middle of a rainstorm, and you see your wiper blades consistently leaving film or streaks behind, they should be cleaned or, if ineffective, replaced.
Toyota Wiper Blades Installation
When you need your new Toyota wiper blades installed, our factory-trained team of technicians is more than up for the task. Not only will they have your blades ready to go in short order, but they can also check and top off your windshield washer fluid, so you can clean your line of sight whenever you need to.Your Toyota windshield washer reservoir holds all the fluid for responsible for giving your windshield that pristine look. If it's cracked, leaking or otherwise damaged, our technicians are qualified to handle repairs like those as well. Their primary concern is to help you see what's coming up ahead, so you're safe behind the wheel.
Visit Us for Genuine Toyota Wiper Blades and More!
If you're ready for a new pair of windshield wiper blades, you can't do better than genuine Toyota blades from Butler Toyota. Our team can install your new blades to specified perfection and handle all the other repairs and fixes your vehicle needs.If you live near the areas we serve Warner Robins, Macon or Milledgeville, you can visit our auto parts department to put in an order for Toyota factory blades and do the fixes yourself. Or,
schedule an appointment
with our service center for expert installation. Whichever way you choose to do it, we're happy to be of service!
Contact Us
Hours
Monday

9:00AM-8:00PM

Tuesday

9:00AM-8:00PM

Wednesday

9:00AM-8:00PM

Thursday

9:00AM-8:00PM

Friday

9:00AM-8:00PM

Saturday

9:00AM-8:00PM

Sunday

Closed