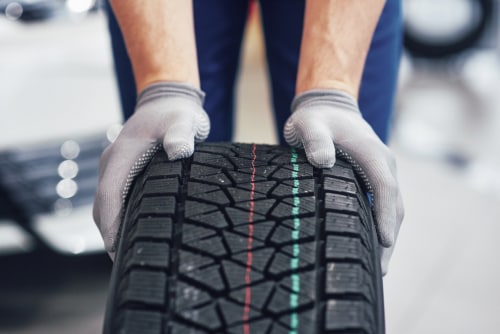 Whether you're driving a Corolla in Macon, GA, a Toyota RAV4 in where we serve Warner Robins, a Camry in Milledgeville, or another Toyota model in Georgia, you're going to need new tires eventually. When this happens, you can come to Butler Toyota and work with our specialized Toyota Tire Center, where you can get tires that are specially engineered to provide the safest and longest-lasting traction for your Toyota vehicle.
Toyota Tire Center Macon GA 
At Butler Toyota, our Toyota tire center is the place to go to get tires, which are specifically matched to and designed for your Toyota car, truck, or SUV. Whatever model or year you drive, it's vital to use the right tires, and getting them from the Butler Toyota Tire Center is the way to go for the peace of mind that comes with assurance of getting the best tires.We're confident that you'll love the tires you get from us. Due to this, we provide two years of full road hazard protection to back it up. Talk to one of our service advisers to get more information about this outstanding warranty coverage. 
Matching Your Tires
Our tire department service technicians use seven factors to determine the perfect tires to match to your Toyota vehicle based on its model and year. These include the tire size, load rating, speed rating, tread wear, traction rating, temperature rating, and overall brand quality. Your Toyota tire expert knows exactly which tires work best with which vehicles, and is here to make sure you get the ideal match.We have only one goal at Butler Toyota, and that's to take the stress and hassle out of getting new tires for your car. Instead, we offer the peace of mind that only comes from perfectly matched tires and expert service, backed up by a bonus 2-year hazard protection warranty.If you're in Macon, or our serving area Warner Robins, Milledgeville, & nearby Georgia community, there's only one resource to keep your tires in great shape, and that's Butler Toyota Tire Center. 
Contact your local assistant service manager to get started today!
Your Toyota Assistant Service Manager will be happy to check your air pressure and perform a visual inspection of your tires. If the manager notices any signs of unusual wear, they can assist in repair or replacement.
And when you purchase tires from a participating Toyota Tire Center dealer, they're backed by the tire manufacturer's warranty and serviced through your Toyota dealer.
Schedule Service
Hours
Monday

7:30AM-6:00PM

Tuesday

7:30AM-6:00PM

Wednesday

7:30AM-6:00PM

Thursday

7:30AM-6:00PM

Friday

7:30AM-6:00PM

Saturday

8:00AM-4:00PM

Sunday

Closed