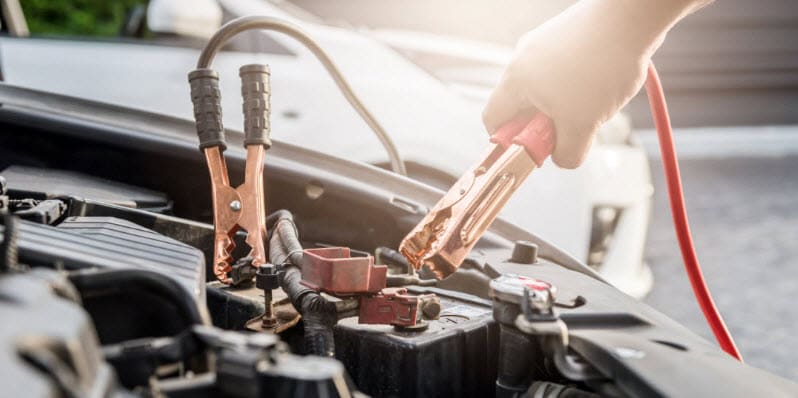 There are so many vital systems in your Toyota vehicle, but the battery is the heart and soul. Without your battery, your car can't run, which is why it's important to understand the role your battery plays in your vehicle's function.There are several signs that indicate your battery is running low and might need to be replaced. Learn more about your car battery's function and find out how to determine if it's coming to the end of its lifespan.
Car Battery Basics
Your car battery is responsible for the electrical power needed to power all the electrical components in your car, which is why it's so important. Without it, your car won't run, and you could end up stranded.Your battery works by converting chemical energy into electrical energy. This delivers voltage to the starter, which provides the energy to start and power your car.Aside from providing the electrical energy for ignition, your battery also keeps the voltage stable to keep your engine running.Because of these processes, your battery is arguably the most important component in your vehicle.
Battery Warning Signs
There are many indications that your battery may need to be replaced, including:
Slow crank: This is when you try to start your car and it takes more time or effort to start.
Check engine light: If your battery is weak or malfunctioning, your check engine light may illuminate. Because your battery is part of the electrical system, a malfunction could also cause other dashboard lights to illuminate that are unrelated to your battery.
Low battery fluid: On the outside of the battery, there's a translucent casing that allows you to view your battery fluid level. If the level is below the lead plates, it may mean that you need to replace your battery and your charging system should be checked.
Swollen battery case: If your battery casing looks unusually swollen, it could be the result of excessive heat, which shortens your battery life.
Sulfur odor: If there's a rotten egg smell coming from your battery, it means the battery is leaking. This can create corrosion around the contact points that comprises the battery's function.
Age: Car batteries typically last three to five years, but factors like driving conditions and weather can shorten its lifespan. If you've had your battery for three years, it's time for an inspection to check its condition.
These are some of the most common issues, but there are other subtle warning signs that your battery is wearing down. If you have chronic issues with your alternator, for example, it could be that your battery is malfunctioning. You may also notice that your lights dim if you use another electrical system, such as the radio, which is a clear indication that your battery isn't working properly. 
Shop for Toyota Batteries at Butler Toyota
Now that you're familiar with your car battery's function and some of its common problems, it'll be much easier to stay ahead of potential problems. Your battery is part of your car's routine maintenance, so be sure to stay on top of your maintenance schedule.If you do notice any warning signs that your car battery is malfunctioning or failing, visit Butler Toyota's
parts department
to shop for Toyota batteries. Our service technicians are knowledgeable about Toyota batteries, so let them help you find your new car battery and get it replaced quickly, so you can hit the roads of Macon or our serving areas of Warner Robins & Milledgeville in no time!
Schedule Service
Service Hours
Monday

7:30AM-6:00PM

Tuesday

7:30AM-6:00PM

Wednesday

7:30AM-6:00PM

Thursday

7:30AM-6:00PM

Friday

7:30AM-6:00PM

Saturday

8:00AM-4:00PM

Sunday

Closed