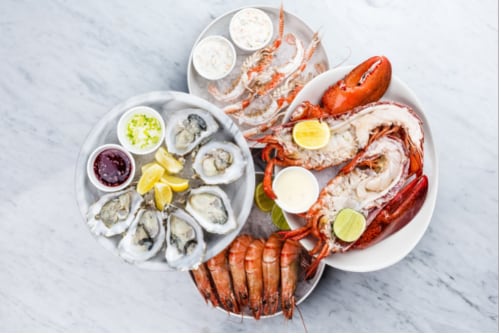 When it's summertime, and you want some fresh seafood to pair with that cold beer, not just any seafood joint will do. You want one with some character, and fortunately, there are plenty around town to choose from.
If you're looking for the best, freshest seafood near Macon, GA, check out the fine establishments below:  
Fish N' Pig | Follow on Facebook
Think fresh seafood and hickory-smoked BBQ go together well? Then, you'll like Fish N' Pig, with its tasty menu featuring all of the above! They have a full-service dining room along with a complete bar. But on a nice day, you'll want to enjoy the views of Lake Tobesofkee from the outdoor covered deck.
Boat docks are available if you're planning on arriving for dinner by watercraft. There's a lot to like on the menu, which offers specialties like 'Gator, Grouper, and Cajun Popcorn Crayfish. Or, try some of that BBQ with an order of St. Louis-style pork ribs. You can even get Fish N' Pig combos, with seafood and BBQ side-by-side!
Kudzu Seafood | Follow on Facebook
Authentic Gulf Coast seafood has never tasted so good as what you'll get at Kudzu Seafood. When you're craving a cold beer and a piping hot dish of delicious oyster, grouper, or crawfish, there's really no better place to go. Try their Cajun Taco, a potent mix of grilled grouper or shrimp and Andouille sausage, topped with Remoulade sauce.
Founder Lee Clack and his wife, Kelley Wrigley, bring the taste of the Gulf Coast from the deltas of Lower Alabama here to Macon. They make all their breading, season blends, and delicious sauces in house for a fresh taste-and their Po'boy bread comes straight from Louisiana. Check out Kudzu Seafood today!
Parish on Cherry | Follow on Facebook
As the name implies, you'll find this fine establishment on Cherry Street, serving up classic Creole food in a rustic-chic setting. At Parish on Cherry, the brunch and lunch menus are diverse, and you'll enjoy a night celebration with live music playing near the entrance.
Start your evening with a Bayou favorite: a fried order of Gator Bites. Or, if you're really adventurous, try the Cajun Fried Frog Legs, freshly battered for your enjoyment. When you move on to the main course, a Po'boy is the way to go, with your choice of shrimp, oyster, grouper, or chicken.
Just one visit to Parish on Cherry, and you'll be planning your next trip back before you know it!
Find Your Favorite Seafood
We know some of these seafood joints near Macon, GA sound appetizing to you. Follow the links above for a closer look at their menus and start planning for your next seafood smorgasbord today!