Changing your wiper blades is a necessary maintenance task. Luckily, it's also one you can easily do from home! At Butler Toyota, we want to show you how to change wiper blades the right way.

Doing so will help you drive more safely in rain, mud, or even the occasional snow! Macon, Milledgeville, and Warner Robins drivers can explore the process in detail below. Contact us if you have any questions.
When to Replace the Wiper Blades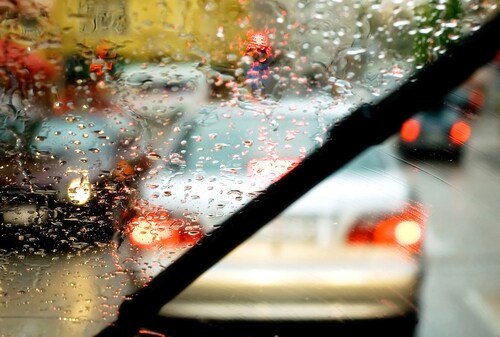 The first step in this process is knowing when to replace your wiper blades. There's no interval that's set-in stone-the best way to is to judge your wipers' effectiveness on the roads.

Your blades need replacing if they can't slide smoothly across the glass. They may leave the windshield as wet and/or dirty as it started. And they may add to the grime by leaving behind a film after every pass of the blades. There may only be one small spot of clear glass to peer through and watch the road!
Even if the wipers seem to be working fine, do a visual inspection. If the rubber is worn or cracked or the wipers are bent, it's time to change your windshield wiper blades.
Choosing Your New Wiper Blades
Most cars use hook-type wiper blades. (The name refers to how the blade attaches to the wiper arm.) You can find many styles of blades, but if they have a hook-type connection, replacing the blades will be easy. Technicians at your local parts center can help direct you to the right blades for your vehicle.
How to Change Your Wiper Blades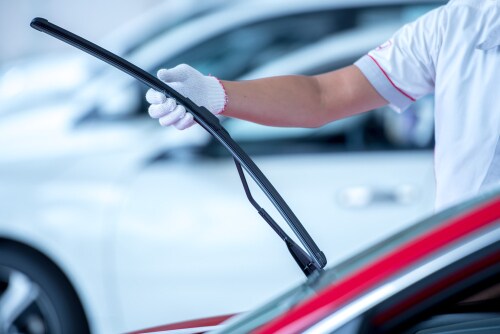 Changing your wiper blades is a simple process. All you need is a new set of blades-no tools necessary.

Remove the new wiper blades from their packaging and have them ready to go. You want to be prepared to make the change immediately, as the wiper arm is metal and could scratch your windshield if dropped without a rubber blade installed. Then, follow this five-step process:
Remove the new wiper blades from their packaging and have them at the ready.
Lift the wiper and turn the blade perpendicular to the arm. Find the release tab.
Press the tab and pull the blade down, not up, to release it.
Turn the blade parallel to the arm and pull it off.
Repeat this process in reverse to install the new blade. You should hear a click or feel a snapping sensation when the blade is in place.
You can test the new blades out to confirm you've changed them correctly. Squirt your windshield with some washer fluid and see your new blades in action!
Shop Wiper Blades at Butler Toyota
Now that you know how to change wiper blades, you can perform this DIY repair when your car needs it. Find the perfect blades for your vehicle here at the Butler Toyota Parts Center.
Order your new wiper blades online, and we'll let you know when they're ready for pickup. Our auto technicians can install them as well, if you'd like to save yourself the trouble and schedule service with us. We're happy to help Macon, Warner Robins, and Milledgeville drivers in any way we can!