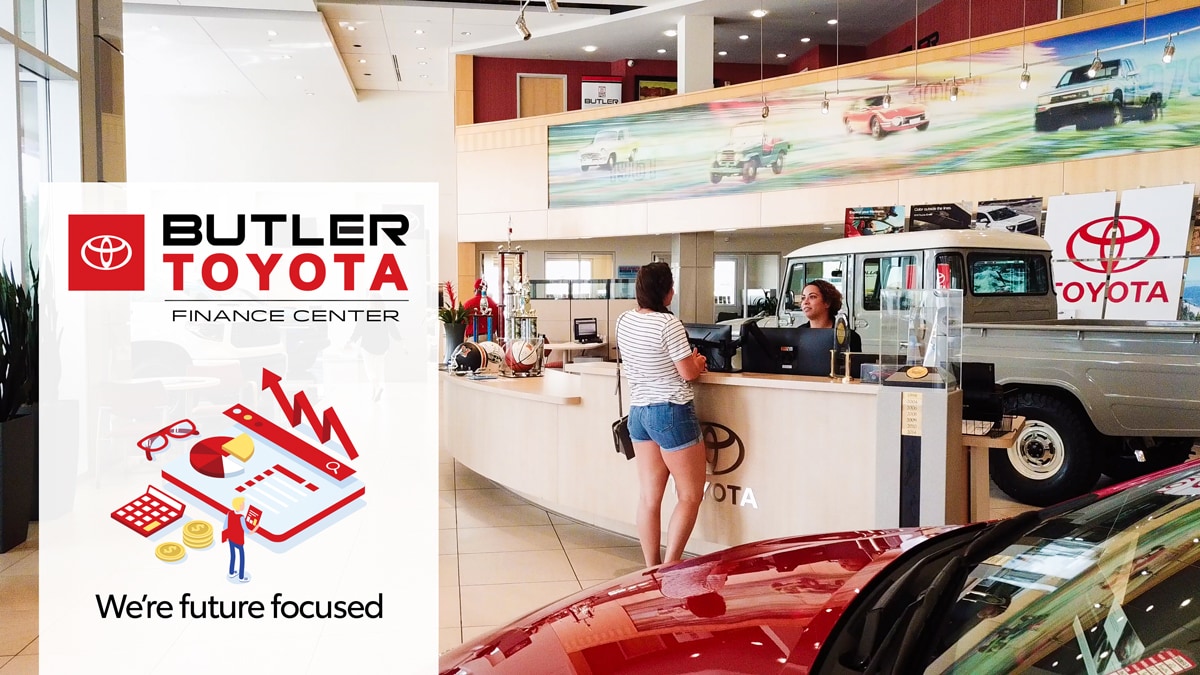 When you're looking to get behind the wheel of your very own Toyota to help you tackle the Macon area, and serving Warner Robins, and Milledgeville areas in style, our team at Butler Toyota can help. We have a variety of different models and body styles for you to choose from. After some help from our associates and an informative test drive, you'll be able to pick the model that's right for you. When you're ready to make the deal, our finance department is here to help you finalize the deal.
Top 5 Credit Mistakes
Our Expert Financiers
Our fun and friendly financiers are here to put you at ease and carefully go over your different options when it comes time to financing your new Toyota. They'll work with you to find a deal that's within your new car budget base on the available options from local banks and lenders. They'll make sure that you're familiar with every facet of the deal so you can determine which payment option or rate works best for you.
Get Pre-Approved for Financing
Financing is a necessary process to the car-buying experience. It may take some time, but it's only so our financiers can have the right resources and information available to help them get you the best deal possible. However, you should know that you can streamline the process by
applying for financing
on our website.Getting pre-approved is easy because all you have to do is fill out the form that's available on our website. This page is encrypted, so all of your information will remain private. Using your information, we'll be able to get a head start on the paperwork, and outline some potential deals you'll want to hear about before you even arrive. By filling out our finance application, you'll make the financing process quick, easy, and efficient.
Value Your Trade-In
When it's time to buy a new car, there's no better way to save some money than by trading in your old one. We'll gladly take it off of your hands, so you can make room for your new car. We'll value your trade-in using Kelley Blue Book®, which allows you to rest easy knowing that you're getting the best price for your vehicle. By trading in your old vehicle, you can effectively lower the price of your new car and get a deal you're really happy with.
If it's time to turn in your lease or you want to terminate your lease early, then Butler Toyota's expert lease return center has you covered. We'll help you through the process and make sure you're provided all of your options even if your lease is through a different dealership. That's the Butler Toyota difference. The process is simple - contact us today to schedule your car's final inspection. Before your appointment, make sure to collect your personal possessions, top off the fluids, bring all keys, and come with your registration form in hand for a quick, hassle-free, and remarkably easy return process. If you have any questions at all, contact our Easy Lease Return Center at 478-314-4184.
Protecting Your Vehicle with Toyoguard
When you're financing your next Toyota, it's the perfect chance to sign up for Toyoguard. This program allows you to extend some of your warranties to ensure that you're getting the right service and benefits when it comes to routine automotive maintenance or repairs. This program offers different levels of coverage, so you can review your options and select one that works for you. These programs offer benefits like roadside assistance, rental car assistance, and several other incentives and discounts.When it's time to buy your next Toyota, our finance department is your destination to find some of the most competitive rates in the Macon, serving Warner Robins, and Milledgeville areas.