All-season tires and winter tires may seem interchangeable, but there are many differences between these two popular options. Every vehicle has its own specific needs, which are largely dependent on the road and weather conditions they encounter through the seasons.
It's important to know which tire option is appropriate for your circumstances as you drive the roads of Macon, Warner Robins and Milledgeville. Learn more about all-season tires vs. winter tires, and discover where to go when you need tire service on your car.
What is an All-Season Tire?
All-season tires are added to most new vehicles when they roll off the factory floor for several reasons. They provide a quiet ride, solid tread longevity and better fuel economy, which is why they're such a popular tire option for many people.These tires are also quite versatile in their performance and have the ability to handle a wide variety of road conditions, such as wet or slippery roads and snow flurries.
Overall, these tires are built to offer aspects of winter and summer tires for better all-around performance and traction. This doesn't mean that they have the same capabilities, however. With such a drastic difference in conditions between summer and winter, no tire could satisfy all those needs. An all-season tire doesn't have quite the same grip of a summer tire, nor the traction and depth of winter tires. They're a good choice for moderate climates, but far from ideal in every situation. 
Winter and Snow Tires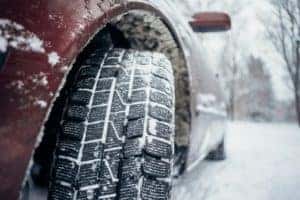 Winter weather comes with deep snow, black ice, sleet, hail and a variety of other dangerous conditions that require exceptional traction, which is where winter tires excel. They're specifically designed to perform in severe winter conditions, using features like deep tread, biting edges and specialized rubber.
In extreme cold, the rubber of a normal tire hardens and can't provide the same traction. The specialized rubber compounds in winter tires help them maintain their flexibility, which means they can grip the road better in low-traction situations.
Winter tires also have deeper treads and special tread patterns. The deep treads keep snow from building up within the tread, which compromises grip, and the specialized tread is designed to push snow, slush and water out and away from the tire to increase the contact with the road.
Biting edges are slits in the tread which are designed to hold traction on ice or slippery snow. Combined with deep treads and special patterns, biting edges add another layer of protection for your tire's traction.
All-Season Tires vs. Winter Tires
Now that you know the differences between all-season tires and winter tires, you can decide which is appropriate for your climate. All-season tires are a better choice for areas that only have light snowfall and occasional ice a few times a year, whereas winter tires are essential for areas with severe winters, heavy snowfall and extreme temperatures.
If you're in Macon, Warner Robins or Milledgeville and need guidance with your tire choice, feel free to consult the tire and service technicians at Butler Toyota. Stop by Butler Toyota and work with our specialized Toyota Tire Center, where you can get tires that are specially engineered to provide the safest and longest-lasting traction for your Toyota vehicle.
Call or visit us today to learn more about all-season tires and winter tires for your vehicle!